Home
»
Website Maintenance Services
---
We Provide Best Professional Website Maintenance Services in India
If you need to update content to your website on a regular basis, keep on top of security issues, Then we've got the solution for you. A website with proper and regular maintenance looks professional and keeps your readers up-to-date with the current information.
Our Website Maintenance Solutions take over the responsibility for updating and operating your site so that you can concentrate on what's important to you.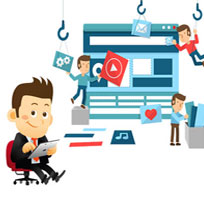 Benefits Of A Website Maintenance Contract
When Entrepreneurs and businessmen create a website for their business they always have the good intentions of keeping it updated. But somewhere along the line, with the day to day stuff getting in the way, they find themselves short of time to update the website.
With A Website Maintenance Contract We Will
How Does A Website Maintenance Contract Work?
Every business has different requirements. Our advisors can speak with you, understand your requirements and offer you the best solution. Normally the options we offer are Either
A complete outsourced maintenance package – Where we do all the work of maintaining the website, but at the same time liaising with your in-house experts to ensure that the right information is displayed on your website.
A CMS solution – Where we build a CMS system for you to update text and images and we maintain the other parts which involve coding. This type of solution is mainly suitable for an Ecommerce website maintenance contract.
Website maintenance prices need not be high. Rather than maintaining the website yourself, it is easier to hand over the website maintenance to professionals.
Although each company is different and we will construct a website maintenance package that will fit to your needs. Our Website packages starts from Rs.999/- per month. If you do not want to commit to a set package, you can go for our Pay-as-you-go maintenance package.
How Much Does It Cost For Website Maintenance Under Pay-as-you-go?
The Pay-as-you-go maintenance package is more suitable for those who do not need regular updating to there website or require a functionality change. Charges differ for the type of work that is needed to be done.
A web designers/graphic designers hourly rate is different from the hourly rate of a website developer. We will work with you to establish what type of work is involved and then give you an idea for the cost of website maintainence.
[contact-form-7 id="120" title="Contact form 1"]