Home
»
All Software Products Overview
---
Software Product Development Company in India
Productivity and Sales Boosting Software Products
Call centres/customer service centres AND companies having their sales teams or teams of engineers visiting customer premises for servicing etc
In this software you can enter customers and keep a track of calls and log of contact.There is a complete CRM engine in the back of this software which will help you do effective follow up and marketing to your customers.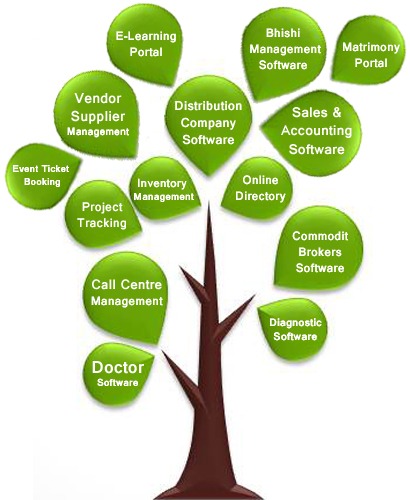 Companies who need to charge their customers by the time. i.e. hourly or daily work.This is useful for Software companies OR architect Firms
This is ideal software for small to medium sized organizations. With multiple projects to handle it often becomes difficult to remember the stage where each and every project is. This software can help you track each project. You can assign the project to a team member, keep track of work done, break the project into small task and assign to different team members. This software is so efficient that it even tells you whether you are one schedule or behind schedule for completing the project.
Event management companies./Anyone organizing and selling tickets for an event.
This software allows you to create various levels of tickets and track the sale of it at various sales points.You can get the registration details of the subscribers and create email and sms lists for them.
This software helps you track the seat sales for each of your events and do effective marketing for upcoming events.
Companies who want to conduct online tests.
This software is perfect for coaching classes, schools and any other type of institute which wants students or candidates to give online test. A random set of questions can be asked from the provided question bank. Correct answer along with test result is shown to the candidate at the end of the test. Candidate will be issued a certificate of participation along with the test result .
Commodity brokers and brockerage firms.This software is not for share trading.
This software allows to create contract notes which you can send to the parties entering the trade. The delivery and payment of these contracts can be managed. The software calculates the brokerage for your contracts for a specific time period.
This software can be used by companies such as banks/co-operatives and financial institutions who have a team of bhishi collection agents. This software will make the process of collecting Bhishi very easy.
This software can be used to collect Bhishi payments. Admin and agents can enter customers and collect installments for the Bhishi.The payment receipts can be provided with Bhishi machines OR through our android software. The Bhishi payments at the counter and agents withdrawals can also be tracked.
Ready to Build Productivity and Sales Boosting Software? Let's Talk!
Small to medium sized firms,small shops etc to keep a track of their sales and cash flow.
In this software you can enter a sale in various formats.
This web application is useful for organizations having multiple vendors. For example an organization supplying jobs to plumbers, electrician and so on. Through this software you can assign jobs to different vendors and send sms to customer to provide vendor details and date on which the job will be completed. A very useful web app for assigning and tracking status of each job.
Ready to Build Business Management Software Products? Let's Talk!
Industry Specific Software Products
Small to Medium sized businesses who need to track inventory. This product is more useful for companies selling a large number of products and find it difficult to keep a track of inventory.
This software allows you to track the inventory of your various products. You can also set indicators to give a notification if the stock quantity falls below a certain level. The inventory is managed using inward/outward as well as invoice and purchase orders and cash sales.
This software is useful for anyone having or managing a fleet of vehicles.
You can enter the total stock and the stock assigned to delivery drivers.They can then collect payment which is also tracked.The receipts can be issues with a handheld POC machine or through our android app.
This software helps you to identify and track the inventory and cash.
Matrimonial and Match Making Agencies and Vadhu War sanstha.
This is a classic all in one Matrimony website through which users can register, view profiles, add profiles to wish list and also chat online with matching profile candidates. An all in one website which looks good and easy to operate. This website comes with a content management system though which admin can control the website pages.
The Doctors software is modified and made specifically for Diagnostic Labs. See Doctors Software for more details.
All dentists and doctors can use this software to make patient registration and appointment booking easy.This software will also help keep track of your cash.
In this software, the reception can enter new patients and collect payments. These patients are then entered at the doctors terminal for conducting further treatment. The doctors have acalendar management facilities even for multidoctor establishments. The patients can use the mobile app to book appointments and you can also display treatments in this app.
6. Listing Web Application
This mobile friendly web app is very similar to Just dial, India Mart and other listing websites. Customers can search on your website to find right vendor to do their job. Search can be performed for different category of services for different cities.
Ready to Build Business Management Software Products? Let's Talk!
[contact-form-7 id="120" title="Contact form 1"]