7 Best CMS (Content Management Systems) for Ecommerce Website Design and Website Creation
Let's Have A Look At The 7 Best CMS For Ecommerce Website Design
Magento is a professional open source eCommerce CMS. It has been around since 2008 and boasts flexibility and control. Magento was developed using the
Zend Framework, and uses the EAV(entity-attributed-value) database model for data storage.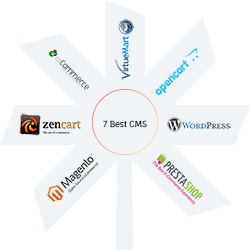 OpenCart is an open source online 'shopping cart' system that allows the user to create an online business with ease. OpenCart is a low-cost eCommerce solution, and has a user friendly, attractive interface that is search-engine friendly and is abundant with features.
PrestaShop is an opensource eCommerce software that boasts reliability and flexibility. It has been around since 2007, and has revolutionised the e-commerce industry by engaging shoppers and increasing online sales.
ZenCart is free, user-friendly, open source 'shopping cart' software. It is developed by a group of shop owners, programmers, designers and consultants that believe in breaking away from the pack, and doing eCommerce web design differently.
'WordPress E-commerce Plugin':
WordPress is a free shopping cart plug-in, and is one of the most popular CMSs in the world. It can be used to make a variety of websites including eCommerce websites that let customers buy products, services and digital downloads online.
Joomla is an award-winning open source CMS. It is versatile and can be used for building any type of website. VirtueMart is an open source eCommerce solution, ideal for low to medium level traffic web-sites. It is designed to be used together with the 'Joomla!' CMS. VirtueMart is written in PHP and uses the MySQL database for data storage.
'osCommerce' (open source commerce), is an open source eCommerce CMS. It is freely available software under the GNU General Public License, and can be used in typical PHP/MySQL environments.
Satej Infotech has expert developers who can provide solution to your ecommerce requirements by using the above CMS.
Contact us today to discuss your requirements.