What is The Best Time to Send Marketing SMS to Your Customers?
SMS is one of the most widely used marketing tool today. In fact, retailers love to use SMS marketing to inform their customers about the discount offers, update them about new launches, etc. In short, SMS marketing helps retailers to keep their customers well informed and happy. If you are looking to avail the benefits of SMS marketing, get in touch with the Best Bulk SMS Service in Mumbai at the earliest.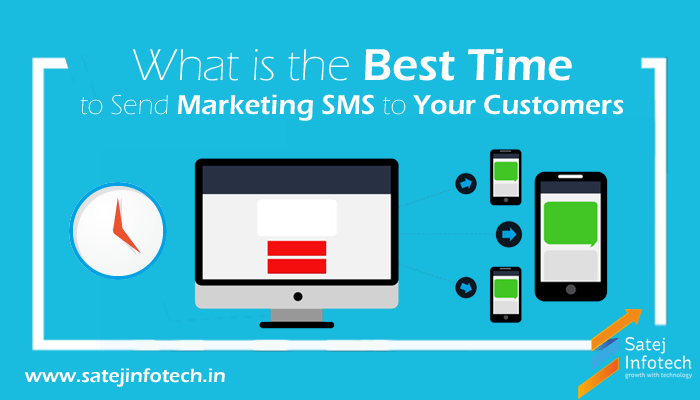 As per a recent survey conducted 50% of people who received SMS from retailers made a purchase. There are numerous reasons for retailers to fall in love with SMS marketing.
Firstly, SMS allows the retailer to convey the message in a concise form and to any type of smart-phone. Also, an SMS can be scheduled to be a sent at a specific day and time. Now the most important question is when is the right time to send an SMS to the customer?
Sure, SMS has numerous benefits and can be sent at any time of the day. But, you must also ensure that you do not overdo it and consider a good timing to send the SMS. For instance, if you send a SMS conveying the best deals or offers at 2a.m, it may get no response or it may even annoy the customer and leave a not-so-good impression about you.
Here, we have discussed the different times of the day that is more likely to do justice to your SMS.
8:00am – 12:00pm is the best slot to send a text message. In fact, 78% of all retail text messages are sent in this time slot for a better impact on sales.
On Sundays, 9:00am – 12:00pm or 4.00p.m to 7.00p.m are the preferred slots as people prefer to laze around till 9.00a.m. Sending an SMS during the early evening will also be beneficial as people will still have time left to surf the net before they gear up for the next day.
Consult the Best Bulk SMS Service in Mumbai and ask the experts to choose the time slot wisely in order to make the most of the text message.
Utilizing important days such as EID, Diwali, Christmas or other national holidays to send text message will also serve the purpose. Valentine's Day, Friendship Day, Mother's Day, Father's Day etc are also celebrated with a plomb and offering good deals through an SMS can make someone's day!
However convenient or easy a text message can be, it must be used judiciously. You cannot afford to bombard your customers with text messages frequently or at erratic hours. Also, ensure that you communicate your strategy with the Best Bulk SMS Service in Mumbai in order to reap maximum benefits from this simple yet powerful marketing strategy.