How To Boost Your Sales with Bulk SMS Marketing in 2020
You've heard that SMS is one of the most convenient and easiest ways to communicate and send business-related information. But what about sales promotion via Bulk SMS Marketing?
We, the team of Satej Infotech Pvt Ltd, have been already using Bulk SMS Marketing for over 5 years for sales and customer service and want to share our experience with you.
In this article, we will give you the basic guide on how to boost your sales by sending promotional bulk SMS text messages.
The question that probably has come to your mind by now is "Is mass texting still alive"?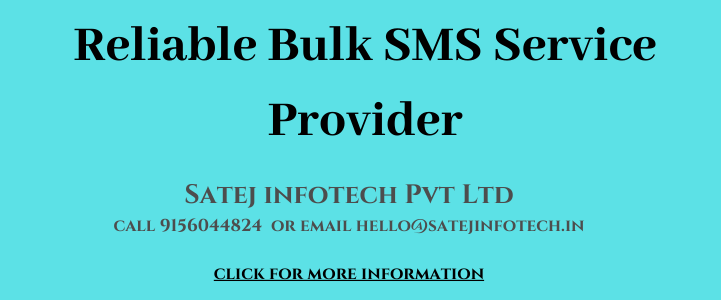 Moreover, it is one of the most consistently used channels of communication between brand and customer. We won't talk about 90% Open Rate of an SMS, its speed, cheap etc. You've already heard about that.
Let's find out what the real customers think about promotional text messaging from Twilio which asked 6,000 people in India, USA, UK, South Korea, and Singapore about how do they find businesses sending text messages to them.
Here is what this research says: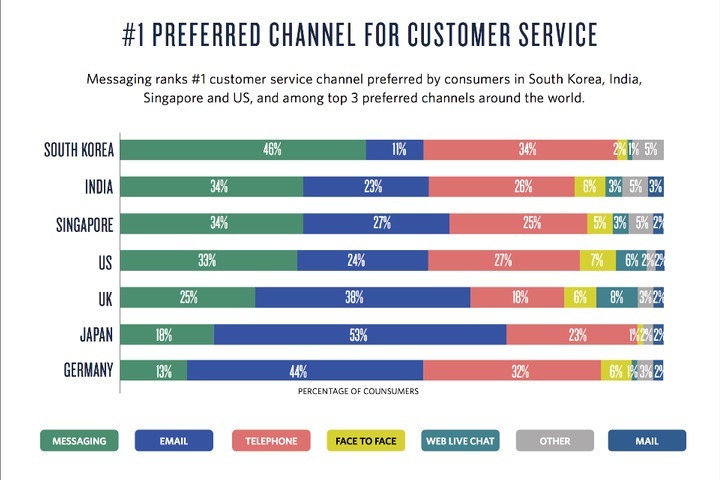 For the full article, research click here
The result above speaks for itself so the question is …
What is the secret to Boost your Sales through Bulk Sms Marketing?
Old methods of customer's engagement do not work and strict rules and regulations that prevent organizations from sending spam messages, texting too frequently, or texting irrelevant messages.
So how do you succeed in this environment?
1) The key factor is to know your target customer and Build an SMS Targeting list.
How can you build a list if you are new in business or have no list?
If you have no list then Sign Up campaigns are an incredible approach to discover best clients for you to contact as such campaigns educate clients about your SMS services that tempt them into joining your messaging list. Remember the key to get more people to sign up to your campaign is to give them loads of Benefits.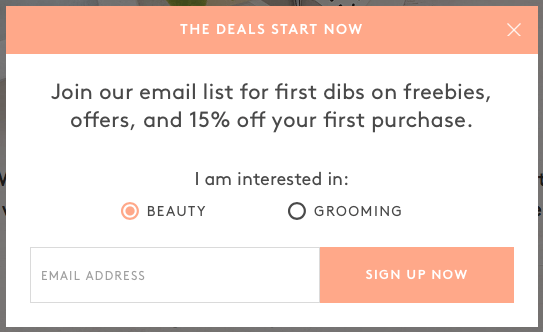 If you have a list then half your job is already done. But the most important point is to now divide this list in
Loyal Customers,
Past Customers and
Possible Customer and send them targeted Bulk SMS Marketing Messages.
The list should also include the data related to buying history and locations of your customer to target the messages better.
Reviewing if your SMS marketing is delivering the expected results by tracking the success rate is another important way to know your customers.
A successful SMS campaign is the one in which numerous clients click on the message and connect with it.
The inclusion of a simple opt-out option regularly in your SMS texts (by doing this, you make it clear to your customers that if they do not want to receive your messages they can stop it anytime).
2) Always offer value to your customers
Would you waste your time reading a piece of an advertisement offering no value?
The answer is an absolute NO!
So won't your customers. You must always offer some value to your customers in your text messages. Value can be in the form of Great Offers, Tips, and Competitions to win something, exclusive deals which are only available to your list.
Anything but boring and without any advantage to your customer will definitely lead to opt-out from your list.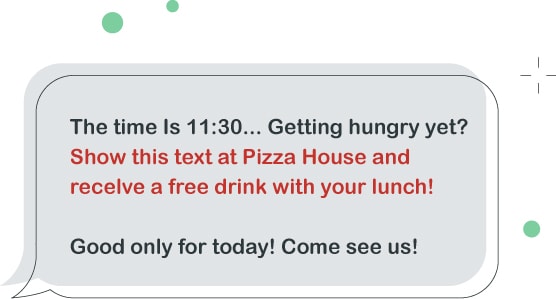 You can send this message to your repeat customers. This message not only gets you more sales but also benefits your loyal customers.
3) Use personalized Bulk SMS Marketing campaigns
The main part of the success of an SMS campaign is personalization.
Want to increase your sales? Make your messages personal.
Here are the basic steps on how to get started with personalized campaigns:
Find customers' info to personalize your texts. If you already have it – import it (for example, from the existing CRM), if not – collect.
How to collect users' data?
By sending them special questions for recording their responses.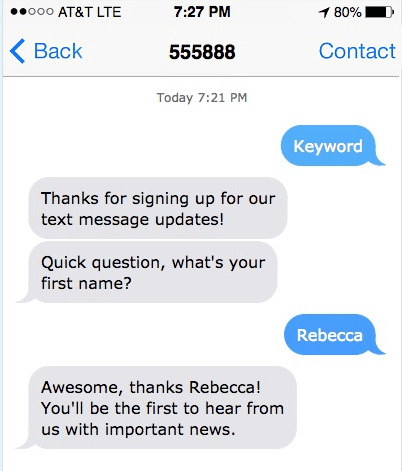 You can use mail merge feature of Bulk SMS marketing software and insert names and other customer-specific details into your messages to make the same a personalized one.
You can also set the Sender Name as your Company Name and brand your text to ensure maximum impact.
As said above, knowing who your clients are and what they need is must to run bulk SMS marketing. Personalised SMS will influence your client to feel important that ultimately increments their faithfulness.
"Hi Bob, we have a great sale on at the moment, 50% off!! Get down to our store or visit us here www.link.com whilst stocks last"
Here Bob is bound to feel like a valued customer as you want him to know about great deals he can get at your store.
4) Knowing the right Timing for sending your SMS
When it comes to sending text message campaigns, there isn't a magic time that will guarantee your success. After all, the average person checks their mobile phone 150 times a day!
The choice is based on your business needs, but there are a few best practices that can help you make an informed decision.
The most helpful tip for deciding when to send messages is determining when you're most interested in your customers taking action. If your message has information valuable for the start of the day, aim to send a text between 8 am and 12 pm.
If you think people will have a better chance of taking action on your message when they're winding down from their day, try to send or schedule your campaign between 5 pm and 9 pm.
If you're a restaurant offering a lunchtime discount, think about scheduling your texts for the mid-morning, so that your offers will be on your customers' minds when they're deciding on lunch.
In some cases, like with retail and entertainment, it can be better to send your messages days in advance. If you're using text messages for appointment reminders, aim to send your message as close to 24 hours in advance as you can. On the other hand, if you decide to use texts as a confirmation method for purchases, payments, or other orders, sending the text as soon as possible is the best practice.
Avoid scheduling your text marketing messages too early in the morning or too late at night. After all, you are communicating quickly and directly with consumers and you want to respect their personal time.
SimpleTexting did a bit of research with their platform and found out that the most common time to send a campaign is 12:00 pm and the least popular day to send a text is Sunday.
No matter the day of the week, noon remains the most popular time to send a text campaign.
They also found that among the messages with links, most clicks also occurred at 12. This revealed that near immediate action was taken by consumers once they received a message.
5) Locate the correct recurrence of sending an SMS
Would it be advisable for you to send your SMS campaign day by day, week after week or month to month? In the event that you send messages too much of the time, clients may get irritated and opt-out from your SMS subscription.
Should you then leave a lot many days between two messages? In this case, the chances are that the client may lose intrigue and will have overlooked why they subscribed to your SMS.
There's no settled measure of messages you ought to send every week or month – the recurrence should be adjusted depending on your group of onlookers and the reason for your messages.
To sum up, Bulk SMS Marketing is very much working in getting your message across your customer and helping them make buying decisions.
Not to forget that Bulk SMS Marketing is still the cheapest way you can reach your customer and provide them value for subscribing to your service.
The question that remains now is to find the right Bulk SMS Service Provider with an easy to use Bulk SMS Marketing platform and of course not forgetting the above points when drafting your SMS.
If you looking for cheap and reliable Bulk SMS Service Provide then fill the form below to let us know your SMS requirement and we will be glad to help you grow your business with our BulK SMS Service.
[contact-form-7 id="4321" title="Contact form 1_copy"]
*PS if you don't have the time or want help with sending Bulk Sms then we also have a Managed Bulk SMS Service for Busy Entrepreneurs.