How To Choose A Domain Extension For Your Business?
So, you have a great business running and now wish to have a website for it. Your website is the first thing your potential customer will notice and also remember that it will stay with you for a long time. Hence, it is important that you choose the perfect domain name and extension. There are several aspects you will need to consider before selecting the right domain name for your website. Find out how to choose a domain extension for your business.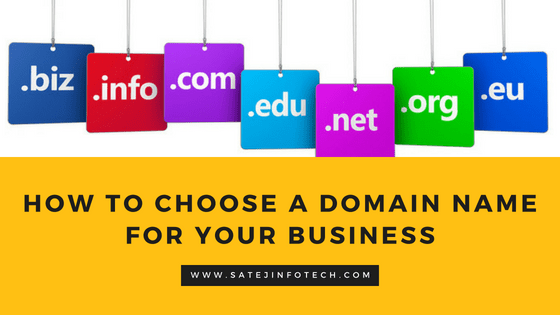 There are over 400 extensions available today and here we have covered a few to help you understand which one you can use.
• .com (commercial) – This is one of the most popular extensions. It was originally used for commercial websites but today it is used for almost all kind of websites and is slightly crowded.
• .org (organizations) – This is ideal for organizations especially a non-profit company. It may not be a great choice for businesses.
• .net (network)– Net implies networking and technology and was originally used for networked websites. However, today it can be used for several purposes and is considered a good back up choice in case you have chosen .com extension.
• .edu (education) – This one is mostly used by educational institutions and colleges.
• .biz (business) – Although a great alternative for businesses having .com domain, it may used by spam sites.
• .info (information) – If your website intends to give out information to users and is not selling anything, you can use this extension.
• .me (personal) –You can use this extension if you have a personal blog or website that is not meant for commercial use.
These are only a few options mentioned. Other extensions such as .tv, .pro, .name etc also exist that can be used for more specific businesses. Also, you must remember that the domain name and extension must work together to create a brand for your website.
• Significance of your website- chooses an extension that will help a user understand the intention of your website. For instance if you run an educational institute, .edu would be a perfect extension for your domain name. Likewise, you can opt for other extensions depending on the purpose of your website.
• Make it more SEO optimized- This is important as it will help your website to rank well in the search engines.
• Keep in mind the local TLDs- With local SEO becoming popular and crucial, you should consider targeting the local area you live in. You can choose from over 200 different country code TLDs. Few examples are-.us for the United States, .ca for Canada,. in for India etc.
1. Choose a Relatable Name
Always keep in mind that your domain name is a part of your business and should give away what you do. The name should be simple and easy to relate. Avoid using hyphens and numbers.
2. Use a Short Name
Try and choose a domain name that people can remember quickly and also type easily in their address bar. Avoid using a long and complicated domain name as it will lead to unnecessary complications and spelling mistakes. Your domain name must be simple and easy to pronounce.
3. Relatable Name
Ideally your domain name should be such that a person is able to look at it and understand what your company does. You will have to choose a name that is informative and clever. For instance, if you sell fruits and vegetables you could probably choose a name like "Exoticfruitsandvegetables.com". This name will help your potential consumers understand that you sell vegetables and fruits.
4. Target Broad Keywords
Although implementing keywords can be great for SEO, you should not be obsessed with the idea. If however, you are able to incorporate a relevant keyword in the domain name, get it by all means. You can also be a little creative while selecting a name for your domain.
5. Use Another Name
There may be chances that your domain name already exists. In such a case, take the liberty of choosing another TLD extension or modify the name .You can modify the domain name by either adding a prefix or a suffix or get a little bit creative. You can take this opportunity and show your creative side while choosing a domain name.
Conclusion;
Your domain name and extension tells a lot about your company, your business and your brand. It is therefore important that you choose a name that is apt for your business. Consider the points and rules mentioned above while selecting a domain name and extension for your business.