How to Use Whatsapp For Your Business?
Good news for WhatsApp fans- from now on you can download WhatsApp Business. In India WhatsApp business is available on the Google PlayStore. The main objective of WhatsApp Business is to enable SMEs and other enterprises communicate with their customers in a better way and also improve their business.
According to a report by Morning Consult, small businesses in India and Brazil (over 80% ) have said that WhatsApp Business has proved to be a boon for their business. Also, currently it is free to use.
#1.Search for WhatsApp Business in Google Play Store and Download It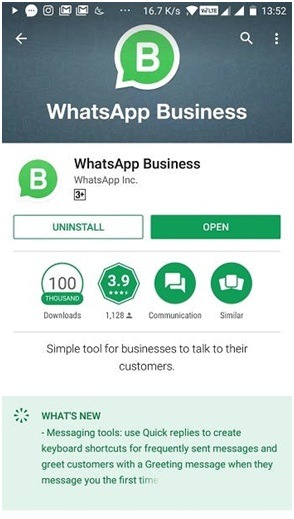 #2. Agree To The Terms and Conditions
If you have the time, do read the Terms and Conditions carefully, otherwise you can simply click on Agree and Continue and read the Terms & Conditions later.
While doing this step, ensure that you register on WhatsApp Business with a new number that is not linked to any other WhatsApp account. After registering, you may enter your business details.
In case your number is linked to a WhatsApp account, you may take a back-up of all the data from that number, give up that number for personal use and instead use it for your business account. During the registration process, users will also have to choose a name for their business. Please note that the name once chosen cannot be changed. So, think of an appropriate name.
#4. Engage With Users and Monitor It
Users can add email or address, business opening hours, website details and business description in the business settings.
Once the initial registration is completed, this is how the app will appear. The app is similar to WhatsApp except for change in the title- WhatsApp Business. The actual changes start appearing in the settings. Again, you will find two sections Statistics and Business settings.
In Statistics, you get to know the total number of messages sent, received, delivered, read. It is still in its initial stages and therefore is very basic. On the other hand, Business Settings have two sections Profile and Away Messages.
This is the main page of your business profile that includes the name of your business, a profile picture, Status Badge( Verified/Unverified) and other information that you have entered.Once you add your customers, they will be able to view your profile and thus contact you easily.
Further, you can change the details by clicking on the pencil icon that appears on the top right. You can add a description of your business, email id, location, web address, etc. There is an extensive list of categories available for you to choose from that will help you get the near-perfect overview of your business.
These are automated messages that are sent to your customers when you are unavailable for some reasons. Away messages can also be scheduled.
Once your customers add your business number, they will get a yellow briefing for end-to-end encryption along with a pop-up. When they check your business profile, they will be able to see all the information entered by you such as your status, location, email id, image, category,etc
Although WhatsApp is a rage among its users, WhatsApp Business' fate looks promising. Quite a number of enterprises are sure to find WhatsApp Business appealing and will welcome this new way of business happily. With time, WhatsApp Business may come up with better and improved features to help more entrepreneurs. What do you think? Are you using WhatsApp for Business and how are you finding it?
The author is director at Satej Infotech Pvt. Ltd. and has been an active contributor to Social Media Marketing Services offered by Satej Infotech to customers in the UK, Mumbai, Pune and Western Maharashtra.
If you are looking to improve your brands Social Media presence then you can have a no obligation chat with us.