Look Beyond the Website- Know What More You Can Do For Your Business
For the last few years, having a website for your business was all that was needed. However, it is not the case anymore. You must realize that a website is an extension of your company where a user may find information about your products and services. Considering this, it is obvious that most companies will maintain a website and post updates about the company, products or services. The question is –How can you stand apart from your competitors? Here, we have shared a few tips to be included in your marketing strategies.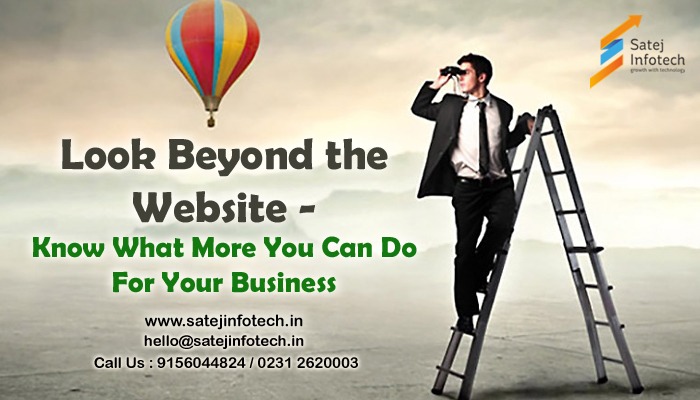 Many companies use social media as one of their marketing strategies because most people today are online. Apart from reaching a wider audience, social media also updates the people with the latest deals that the company has to offer. Social media is also the fastest way to connect with your audience.
Choose the right social media handle and engage your clients by posting relevant posts. Get involved with your prospective clients by answering their queries/ comments and replying to their personal messages. You can also conduct contests; polls etc and encourage your customers to participate. You can even announce the launch of new products or discount coupons on your social media channels.
Remember that every social media channel has different features and you need to tap these features for your marketing. Also, make sure to include the social media icons on your main website so that users can click on them and reach you. Get in touch with a reputed IT company who will understand your requirements thoroughly and guide you properly to achieve your target.
Get your customers to be more interested in your company by creating an app for your brand. Since most people own a smart- phone today and are online, apps work like magic.
Apps are one of the best ways to connect with your potential customers. Apps are a lot simpler and easier to handle. All they need to do is download the app and keep checking for any updates from your company.
Select appropriate features and ensure that your app has an effective user interface.
To make it more fun, you can add features that will enable your customers to get discounts.
3. Create Your Own Videos or ADS
Ads in the form of short films can be a great way to attract your clients. Also, a unique video depicting your creativity and a great story line can be uploaded on YouTube to garner likes and views. YouTube is a good way to boost your marketing strategies, if the users like your video, it can go viral in no time and improve your brand value.
4. Use Email Marketing Effectively
Although a traditional method of marketing, this method is equally effective. Your customers are more likely to click on the messages if you inform them about promotional packages or discounts.
You can also create a directory of your loyal customers and send them greetings on their birthdays or anniversary.
Most people check their emails regularly and so this method of marketing should not be ignored. You can even invite your customers to your company's events or activities. In other words, email marketing is good strategy to connect with your clients.
Google Analytics allows you to monitor the impact of activities on your website. It generates reports informing you about the number of visits to your website. It also helps you track the pages that are most visited and what transactions your clients make. All these reports will enable you to make a better website.
6. Make Your Website Mobile Friendly
If at all you feel that a website serves your marketing purpose, you can at least make it mobile friendly. This way, users can view updates about your company through their mobiles. However, ensure that your website has a simple and easy user interface so that people don't waste time in figuring the details you have uploaded.
These tips should be helpful in boosting your online marketing strategies and help capture your potential customer's attention. Ensure that you hire a good IT company that will understand your requirements perfectly and provide you with innovative ideas to stay ahead of your competitors.