Web Design Company in Pune Discusses- Why do businesses need a new breed of Website Designers?
Whether small or big, every business today needs to have a website. Websites are commerce engines on which some businesses are dependant while others may need it for online business. A website must be informative and attractive to ensure there is a substantial amount of traffic driven to it. Being a web design company in Pune, through this article,we wish to inform companies as to why they should hire excellent website designers to get their website designed.
It is interesting to note that today, every business is competing to have visibility online. To ensure this, businesses hire SEO and internet marketing services. Such services are needed so that search giants Google, Bing and Yahoo send visitors to their website. However, it is high time that businesses and website development company in Pune realize that websites are not just a 'website' , there is a lot more to it.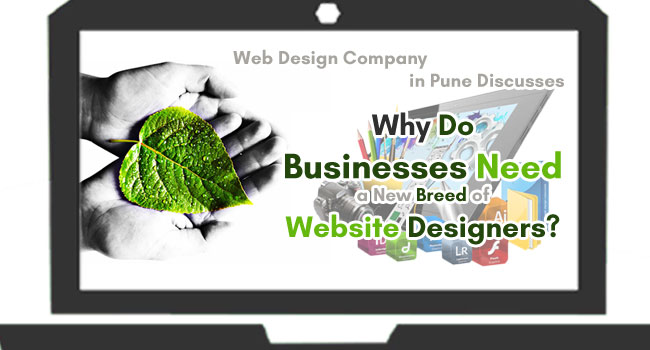 In today's www era, it is not enough if a web designer / developer creates a website with a 'wow ' factor. The users today are well aware of their requirements and are well researched . Traditional websites are outdated and web designers need to have updated knowledge about how to gain a user's trust. Gone are the days where the web developer would just change the codes and create a flashy website. But in today's competitive world, the whole outlook has changed and web design company in Pune need to be really smart enough to ensure that the business grows through the website. A competent website today must consist of the following factors:
Today, Google is very particular about how a user feels after going through your website. Less importance is given to link building and SEO. Your website must enable a user to find relevant information in the shortest possible time frame. Navigation system must also be easy and should not confuse the user and the content on your website should be placed logically. It is recommended that a developer behaves more like a user than just a coder.
This factor has always been overlooked by web developers. However, the time has come where web accessibility has become highly important. People with disabilities across the world, prefer to make use of the opportunities offered by internet such as networking, education, shopping etc. Website development companies in Pune must ensure that the website designed by them must strictly comply to this rule or else they should be ready to face a penalty from Google soon.
3. Mobile Device Optimization:-
Smart phones are here to stay for a long time. The very fact that these devices are mobile, makes them more endearing to people. Most of the users prefer browsing the internet with through their mobile devices. It is imperative that the web developers understand the need of the hour and make web sites that are mobile optimized. The layout of the content, its structure and its quality must be properly designed. This will help give the user a whole new experience while browsing.
Again, whether you have a small business or a big business, a mobile app is a must to attract more users to your website. This is due to the fact that people may not have the patience to type out the URL and search for it in Google. Users need best possible services at their fingertips and at the shortest time possible. Therefore, mobile apps fit the bill perfectly and more businesses today wish to have an app of their own. Also, there are several other advantages that a mobile app can provide a user. Some of them have been listed below;
– Allows better user engagement.
– Boosts repeat visit hence more traffic to the website.
– Apps allow to push advertisements to users.
– A wide array of communication can be sent directly to the user.
Several users today prefer taking information from many apps and then select the best one, thereby reaching the right business.
It can be said that web design company in Pune must have intelligent developers to provide them with a solution rather than just a design. The onus is on the developers to ensure that the websites designed by them must help in making the business successful. Website designing is not a game of reaching Google's first page anymore. The main objective is all about ensuring that the user is happy and there is good traffic on the website always.