Why Investing in a Responsive Website Design Should Matter for Your Business?
Things that were possible using PC or laptop earlier are being done on mobiles today. More and more people are making use of their tablets and smart-phones to surf the net and therefore it has become increasingly important to have a website that works across several platforms and caters to the needs of customers. In addition to this, search engines like Google is giving preference to responsive websites. Hence, if you own a business which you wish to put online, you should invest in a good responsive website. There are some really good web design company in Pune which can help you with a responsive website design.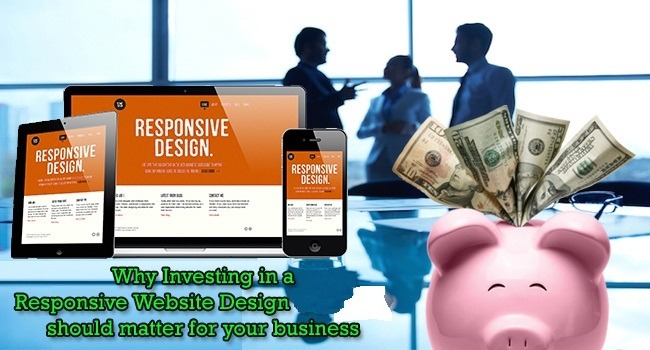 What Does Responsive Web Design Mean?
Responsive web design is a method that involves coding and designing a website in such a way that it allows prime viewing across several devices such as mobile phones, desktops, tablets etc. Responsive websites allow easy navigation with minimum scrolling, panning and resizing thereby giving a user a great experience.
A web designer in Pune must be capable enough to develop a responsive website using intelligent coding that can alter itself to fit to any screen size without any distortion. In short, no matter what device is used, a responsive website should adapt and offer a fantastic user experience.
We Have Listed 10 Reasons Why You Should Have A Responsive Website
Google had announced that a responsive website will improve the SEO of your website. This is due to the fact that responsive websites make use of a single URL , making it easier for Google to crawl and index the content within your domain. In addition to this, a responsive website offers a better user experience, which is high on Google's list of SEO criterion.
Unhappy visitors will go to another site leaving your site with more bounce rates and low ranks within mobile searches. Therefore, you must hire a superior web design company in Pune which will help improve your rankings on the search results.
Responsive web design is a must if you want improved search engine results. A single responsive website will minimize your efforts in building links or optimizing content for several websites. Also, the URL will remain the same on all devices thereby improving your ranking and search engine results of your website.
3. Improved Mobile SEO Performance
A challenge posed by having a separate mobile website is that you will have to build the authority of the site from scratch and unfortunately do not rank well.
On the other hand a responsive website will let you to preserve any back-links and allow you to focus on a single website. This ensures that all the links will be directed to one domain and boost your responsive website in both desktop and mobile search engine results page (SERP's).
Despite having good search results, your website will have a high bounce rate if it does not work effectively for mobile or tablet users. Bounce rate can increase if the mobile version of website has less content or different content than its desktop version. Google may then consider this high bounce rate a result of content being irrelevant to users and will lead to drop in the rankings.
A responsive website counters this problem by presenting the same content as on the desktop in a functional way. This will ensure that the visitors will receive the same information always and thus reduce the bounce rate. Ask your web designer in Pune to provide you with a website that is free of errors and bounce rates.
It is no secret that most people use their mobile to browse the internet. Google too gives preference to mobile friendly websites. A responsive website will bring you traffic from various channels and allow your users to access content from any device. A recent study shows that users will prefer using your website if it is designed for mobiles thus attracting more users and increasing traffic to your website.
Undoubtedly, a responsive website is more cost effective. If you have one website for the desktop and another for the mobile, it could lead to duplication of content and affect your ranking. A responsive website takes care of this problem as it re-adjusts itself to any screen size it is viewed on thereby reducing the cost.
7. Enhanced User Experience
A quality responsive website allows better user experience on a mobile device without the need of zooming and shrinking of the screen. Such a website will adjust automatically and improves usability. An improved user experience will not only boost sales but also improve customer retention.
Hire a reputed web design company in Pune and ensure that they build a high quality responsive website that will also allow you to track it better. A good responsive site will help you in getting rid of conversion paths, track user journeys, funnels and redirections between several versions of your websites. Analytics tools such as Google Analytics and Clicky are optimized to provide you with improved analytics of multiple devices and responsive reporting.
9. Reduced Content Curation
Today, content is the king and good quality, catchy content improves your search engine ranking results. This is very important in SEO. A responsive website will give you an advantage of fewer resources to be wasted in duplication of content across websites.
In the past a different website was created for a mobile and a lot of time was wasted in doing so. A responsive web design, on the other hand, takes less time to be created and saves a lot of time. Testing different versions of a website increases maintenance overheads and development support.
It is far simpler and less time consuming for business owners to maintain and manage a single website.
There are many web design companies in Pune but finding a company which can understand your business and be inline with your vision is a bit difficult. However help is at hand! Satej Infotech Private Limited has hands on experience in building responsive website design that not only look good but help you achieve your business goal. So give us a call to arrange a no obligation meeting!