10 Best eCommerce Websites In India
With Indian consumers becoming more and more internet savvy and increasing numbers of businesses in India are aiming to increase their sales by going online. Here is a list of 10 Best Ecommerce websites in India to get inspired from while making your own ecommerce web design strategy.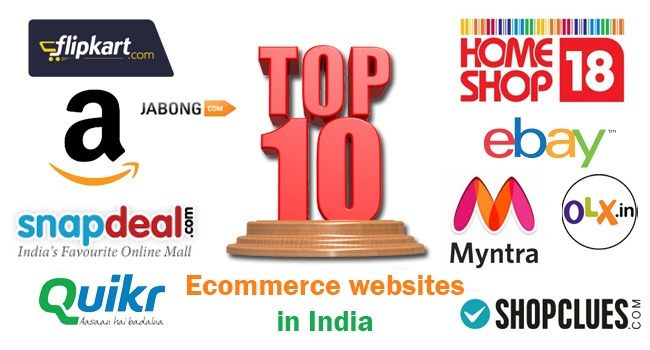 Started in 2007 by a team of 2 Sachin Bansal and Binny Bansal now employs over 20,000 people. It is a market place selling over 20 million products ranging from clothing, home and kitchen ware, electronics, shoes, books and many more categories.

It is India's first billion dollar ecommerce company. In 2014 it acquired Myntra online fashion portal.

flipkart.com has been ranked 6th by Alexa ranking among the 'Top Websites in India'
Amazon.in is operated by Amazon Seller Services Private Ltd, an affiliate of Amazon.com, Inc. that opened on the World Wide Web in July 1995; Amazon Seller Services made its foray into the Indian market with the launch of Junglee.com in Feb 2012. In 2013, Amazon launched its site in India, www.amazon.in. Its registered office in India is in Bangalore.

Amazon product line include several media (books, DVDs, music CDs, videotapes, and software), apparel, baby products, electronics, beauty products, gourmet food, groceries, health and personal-care items, industrial & scientific supplies, kitchen items, jewelry and watches, lawn and garden items, musical instruments, sporting goods, tools, automotive items and toys & games.

Amazon.in is ranked 9th by Alexa ranking among the 'Top Websites in India'
Snapdeal.com was started in 2010 by Kunal Bahal and Rahul Bansal after getting inspired by www.groupon.com. Snapdeal head office is in New Delhi.
Snapdeal.com features products across categories like Mobiles, Electronics, Fashion accessories, Apparel and Footwear, Kids, Home and Kitchen, Sports, Books, Restaurants, Entertainment and Spas amongst others.
It is ranked 13th by Alexa ranking among the 'Top Websites in India'
Jabong started operations in 2012, co-founded by Arun Chandra Mohan, Praveen Sinha, and Lakshmi Potluri after which Manu Jain, and Mukul Bafana joined the organization. The company head office is in Gurgaon.
abong.com is an Indian fashion and lifestyle e-commerce portal, selling apparel, footwear, fashion accessories, beauty products, fragrances, home accessories and other fashion and lifestyle products.
abong.com has been ranked 15th by Alexa ranking among the 'Top Websites in India'
Quikr was launched in 2008, and is currently present in 940 cities across India with its Headquarters in Mumbai. Quikr is an India-based online marketplace that allows people to post and respond to free local Classifieds Ads and Want Ads for Housing, Apartments, Furniture, Matrimonial, Pets, Jobs, Resumes, Cars, Services, Events, Discussions and more.
Quikr.com has been ranked 16th by Alexa ranking among the' Top Websites in India'
eBay India Private Limited started in 2006, whose office is located in Goregaon (East),Mumbai.
eBay is India's leading online marketplace offering auctions, quick buy and classifieds modes of person-to-person trading. There are a wide range of products listed on eBay India in an array of categories including Art & Antiques, Apparel, Bollywood, Books & Magazines, Cars & Bikes, Computers, Home and Personal Loans, Electronics, Cameras & Optics, Movies, Music, Health & Beauty, Gifts, Home, Jewellery, Mobile Phones, Real Estate, Toys & Baby Products, Travel etc. eBay India is a 100% subsidiary of eBay.com.
Ebay.in is ranked 25th by Alexa ranking among the 'Top Websites in India'
OLX was launched in India back in 2006; it is the most popular consumer to consumer (C2C) online marketplace in India.
It enables public the Buy, Sell and Rent everything locally through Free Classifieds Advertisements of pre-owned Mobiles, Computers, Electronics, Furniture, Appliances, Cars, Bikes, Properties and Apartments.
Olx.in has been ranked 32nd by Alexa ranking among the 'Top Websites in India'
Myntra.com was founded in 2007 by IITians Mukesh Bansal, Ashutosh Lawania and Vineet Saxena. It is headquartered in Bangalore, Karnataka. It is a market place selling apparels, accessories, cosmetics and footwear from over 500 leading Indian and international brands.
Myntra.com has been ranked 42nd by Alexa ranking among the 'Top Websites in India'
Myntra.com has been acquired by www.flipkart.com
Shopclues.com team operates from their head office in Gurgaon. It is an Online Shopping Store Mobiles Phone, Computers, Tablets Pc, Home Appliances. Digital Camera, Bike & Car Accessories, Fashion Store, Health and Beauty Products in india.
Shopclues.com has been ranked 43rd by Alexa ranking among the 'Top Websites in India'
HomeShop18 was launched in 2008 in India. It's Founder and CEO is Mr. Sundeep Malhotra. Its Headquarters is in Uttar Pradesh, India
It sells Automobiles, Cameras & Accessories, Clothing, Computers & Tablets, Electronics, Fashion Accessories, Footwear, Gifts And Flowers, Groceries, Health & Beauty, Home And Kitchen, Household Appliances, Jewellery, Mobiles Services , Sports & Fitness, Stationery & Office Products, Toys & Baby Gear and Watches.
www.homeshop18.com which was ranked at No. 5 as the most trafficked Ecommerce portal in India by www.comscore.com in July 2013.
Is your website ecommerce ready? Is your eCommerce Website Development Company advising you on the latest ecommerce developments and trends and including them in your website?
Are you thinking of selling your products and services online and not sure where to start. We have just got the thing for you! Go through this ecommerce website example which we have designed and developed recently.
IF you need any more help, call our friendly team (02312620003/+91 9156044824) and let them help you build an ecommerce web design that will not only attract more and more visitors but also convert visitors into paying customers!