Google Launches New Design Portal for Mobile App, Website Developers
A latest move by Google- it launches a new design portal for mobile app and website developers. The biggest advantage of this portal is that it will provide advice to developers to develop applications and web pages in such a way that it produces best results on mobile devices. This portal will also be helpful in ecommerce website development providing an enhanced user experience leading to increased business.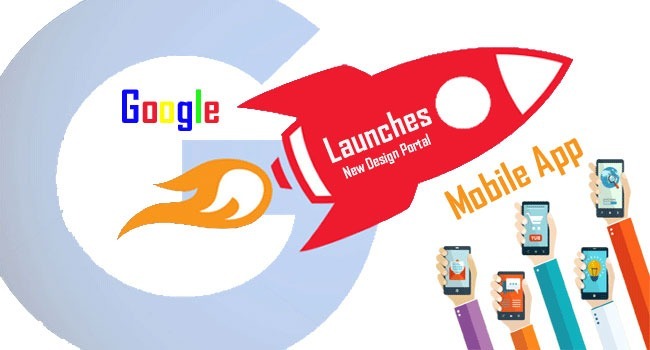 Internet being a powerful tool, several companies run their ads online for optimum results and Google ensures that users are able to view maximum content on the internet through their mobile phones.With several people opting to search for information through their mobile phones, this portal will give good resource to increase UX. Some time earlier , Google had also implemented its Accelerated Mobile Pages to boost the rankings of Web pages that were optimized for mobile viewing. The latest portal for Mobile App and Website Developer has been created keeping this objective in mind. It will help in giving better ideas and resources to website developers and optimize a web page for mobile users.
Google also conducted a survey through its Think with Google: Designing for Mobile Micro Moments and gathered information from over 100 people using mobile apps and website. The objective of this survey was to understand which mobile applications and websites gave users a positive experience and which ones did not. This survey was conducted in partnership with AnswerLab, which specializes in usability testing and user experience research. Famous E- commerce brands Amazon.com and Zynga are customers of AnswerLab among others.
In addition to the new portal, Google provides users with another guide providing 25 principles that will guide mobile app development and make E-commerce website development more mobile friendly. It gives the web developers a walk -through of the topics such as how to use speed test tools to enable pages to load faster, how to display product information and make the entire website user friendly. Other topics covered in this guide include app navigation, exploration in app searches, usability and ease of form entry. Again, one of the major principle covered in this guide is to help developers design their applications and enhance e-commerce website development in such a way that it is optimizes user experience and at the same time drives sales conversions.
With many users using mobile phones to check information on websites it becomes imperative that web developers design the pages in such a way that they are mobile friendly. Gone are the days where desktop strategy would be replicated on mobiles. Web developers will have to build pages that give users a very good mobile experience.
To sum up, it can be said that the new design tool from Google will be a boon for Web developers which will eventually help business get more traffic to their website through mobile devices. It will also enable the web developers to develop their skills and create useful strategies in giving users a unique mobile experience.
The author of this is an experienced mobile and ecommerce website developer at Satej Infotech Pvt. Ltd. If you want your mobile website tuned up to provide the best user experience and increase your sales get in touch with us today!