How to Use Your "Thank you" Page for Better Customer Engagement
A "thank you" is often used to end a conversation. But in the marketing world, you cannot afford to end your relationship with your customer by using a thank you page on your site.
Firstly, you need to understand when you should have a thank you page. You cannot afford to put up a thank you page everywhere. Some instances where you can use a thank you page are;
• When a visitor has subscribed to your email list
• When your visitor has downloaded a PDF, video course, checklist, etc.
• When a customer has converted into lead
• Whenever you get your visitor's email address, money, social shares etc.
However, the buck should not stop there. You must think of innovative methods to retain your customers and make them your loyal customer. Here are few tips that will help utilize your thank you page effectively.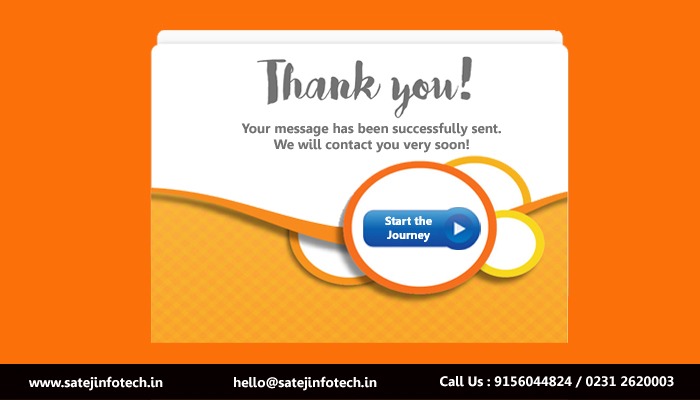 1. Direct Your Customer to Some Other Page of Your Website
This may not earn you extra points but directing your customer to another page will keep them engaged with your brand. For instance if the thank you page was a result of a purchase made, you could direct the customer to other product related pages or show products that have been purchased by other customers. This may cause the customer to leave their email address on a lead generation form that you can make use of in the future.
Another benefit of directing your customer to another page is that they may share a piece of content they liked with their friends. In short, try and direct your customer to another page so that related content gets shared.
2. Get Your Customer to Write For a Social Share
So, your customer just subscribed to your newsletters or purchased a product. Use the opportunity and ask them to share their experience. It would be useful if you could hire services on an experienced website design company and ask them to add social shares button on the Thank You page. However, ensure that you change the URL on the share buttons. Avoid sharing the URL of your Thank You page, instead share the link of the offer the customer showed interest in.
3. Offer a Coupon Code for Next Purchase
It may not be a great idea to wait for your customer to make another purchase in future. You could rather offer discount or special offer immediately after they make their first purchase. Make sure you highlight the time sensitivity and product scarcity while writing the content for such discount coupons. You need to make it clear that you will make the deal only once to boost the conversion on your Thank You page.
4. Invite Customers for an Upcoming Webinar
Inviting your customers for an upcoming webinar is a good way to connect with your customers in case you are not selling any goods. This way you can lead your customer to another Thank You page and get them to add your brand to their calendar.
5. Encourage Customers to Make an Appointment
In some businesses human contact may be very important. For example, a customer fills up your contact form and arrives at your Thank you page, you could encourage them to book an appointment with you right away. This strategy works well for customers who have subscribed to your newsletter or some other low-level commitment. This act shows that he may be interested in becoming a future client.
6. Provide Your Customer with the Opt-in Feature
Email-marketing is still considered to be an efficient marketing strategy. But sending emails to your customers without their consent can be a bad strategy. Make use of your Thank You page to encourage your visitors to opt for future newsletters from you. This will ensure that you have direct contact with them.
7. Encourage Visitors to Download Your APP
Use your Thank You page to allow your visitor to download the app. This is also a brilliant way to make people aware of your app too.
Make sure to get your website designing company to works on reducing the loading time of your Thank You page. Whatever offer you want in your Thank You page must open within a couple of seconds. Most people tend to close their browsers immediately after they completed their purchase or browsing. It is your responsibility to make sure that they view all your incentives/offer before they close the browser.