Use Tactful Keyword Research Methods to Boost Your SEO
Good keywords are the heart of any content rich campaigns. They generate both short- term as well as long-term organic search traffic for your site. Unfortunately, most of the entrepreneurs, SEOs and marketers do the keyword research in a wrong manner. The most common practice used is; choose a keyword, plug it in Google Keyword Planner, download the result and then sort the spreadsheet. If you too are one of them, it high time you change your strategy. You can contact a reputed and successful SEO company and utilize their expertise.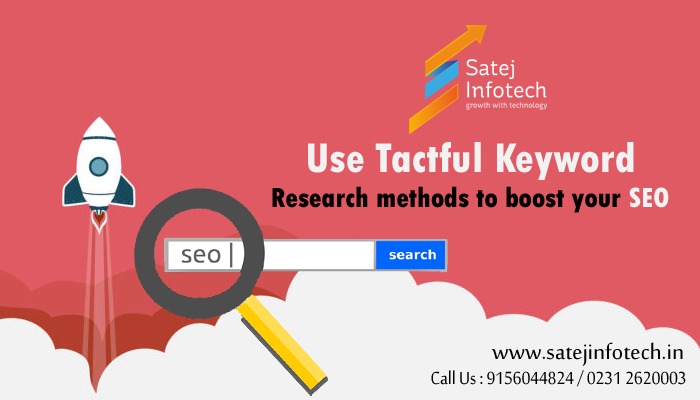 The reason why this old method does not work well for you is- the same keyword has been searched and worked upon by thousands of SEOs and marketers. Also, if your website has a less authoritative domain, you will actually need to search for more realistic keywords in order to improve your rankings.
The key is to find hidden keywords from the lot of keywords that the keyword planner provides. Ensure that the keyword has a decent search volume and less competition. This will enhance the organic search traffic.
Here, we shared a few tips to improve your keyword search methods.
Most of the content online is used to impart knowledge. Most of the people want knowledge for free. But there is another section of people who do not mind spending some amount to gain knowledge. Such type of people can be found in the following places;
-E-commerce Stores – Such people buy books and audio-books from e-stores.
-Blogs – People follow the blogs of their interest and tend to buy training courses/materials directly from them.
-Education Sites – People are more interested in getting their training done online. There are several website that sell their courses to genuinely interested students. Udemy and Skillshare are good examples.
As an entrepreneur, you must try to target students and create content that revolves around a specific keyword. This way you will build a good base for your future sale of educative courses.
2. Watch-Out for Questions Being Asked By Your Readers
If you are careful enough, you will find most of your keywords in the questions asked by your readers. How to extract the keyword?
• Faqfox- it is a tool that can be utilized to get ideas to find keywords and content. The tool will provide you several threads from different forums once you enter the keyword in it.
• Dig in to a Forum- Although Faqfox covers most of the forums and Q& A websites, it does not cover all. If you are able to find a relevant forum, you must look for threads to extract your keywords. Additionally, this way you can even find the preferred language by your users.
3. Keep an Eye on Your Competitor's Keyword
If observed carefully, most of the leading sites (in your niche) have a large amount of content with several keywords in it. A keyword can be found once in the title or a few times in the body of the article. You can use the same keywords and create some unique content around them. This way you will have better content for keywords that have already been targeted. This method may be slightly difficult but if it clicks, it may provide you with great results.
Twitter is a powerful marketing platform and if used effectively, it can produce wonderful results. Twitter includes hashtags in the tweets. If there is a trending topic, interested people can participate in it by searching the keywords using the hashtags. Twitter uses a specific hashtag to allow a group to discuss a topic, live. They are also moderated for certain period of time to improve the discussion.
To use Twitter chats to the fullest you may require a tool designed specifically for that purpose. Here are a few options:
-Tweetchat.com
-Twitterfall.com
-TweetGrid.com
-Twubs.com
5. Avoid Using all the Tools Simultaneously
• You need to understand that all the tools and research methods come with certain limitations and therefore need to be used judiciously. If you wish to get the complete list of keywords, you will have to use some of the tools such as Keywordtool.io,
Term Explorer, etc. Relying entirely on Google keyword planner may not be a good decision
Generally speaking, it is imperative that you use better tools and research methods and not just Keyword Planner for your research. In case you are new to this whole process, you can rely on a reputed SEO Company in Kolhapur to utilize the tools for your benefit.